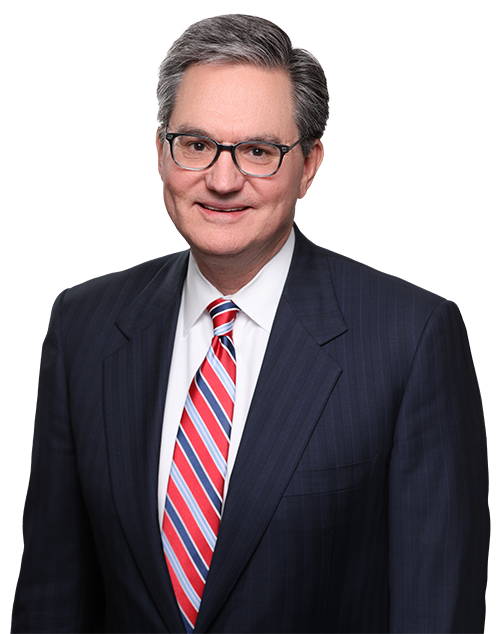 John A. Taylor, Jr.
Partner - Los Angeles Office
How John Helps Clients
A California State Bar Certified Appellate Specialist, John A. Taylor, Jr. has helped numerous clients prevail in high-stakes appeals concerning legal issues of industry-wide importance and from multimillion-dollar judgments.
---
John has argued appeals throughout the state, including several in the California Supreme Court. Among them are a groundbreaking matter addressing automobile manufacturers' warranty liability (Gavaldon v. Daimler Chrysler) and an intellectual property case in which the court overturned a $15 million judgment against a coffee manufacturer based on alleged unauthorized use of the plaintiff's image on labeling (Christoff v. Nestlé USA, Inc.). John's name currently appears on over 100 appellate decisions, including more than 50 published opinions. He has been lead appellate counsel in dozens of civil appeals for individuals, insurers, and entities in the entertainment, automotive, and other industries, including matters involving entertainment law, the right of publicity, the Unfair Competition Law (UCL), breach of contract, insurance coverage, wage and hour law, employment discrimination, personal injury, California's "lemon law," arbitration awards, and trusts and estates. John's many victories include his role as lead counsel in (Don Johnson Productions, Inc. v. Rysher Entertainment), obtaining a $37 million reduction of a $52 million judgment against his client
John is a partner at the firm, where he has been practicing appellate law since 1993. Before joining the firm, John was a litigation associate with Gibson, Dunn & Crutcher LLP.
John has authored numerous amicus curiae briefs in the California Supreme Court on issues such as evidentiary requirements in product liability and wage and hour litigation; the scope and application of Proposition 64's amendments to the UCL; public policy issues arising out of subcontractor indemnity provisions in residential construction contracts; the constitutionality of Proposition 5, the Indian gaming initiative; and the validity of the Seaman's tort.
Representative Matters
Urick v. Urick III (2022)
California Court of Appeal holds that the trial court abused its discretion in denying a continuance after a party's attorney was hospitalized days before trial

Viasat v. Acacia Communications (2022)
California Court of Appeal affirms $49 million breach of contract verdict in complex commercial dispute involving misuse of intellectual property
Riskin v. Downtown LA Property Owners Association (2022)
California Court of Appeal reverses attorney fees award in California Public Records Act case
Mallonee v. Toyota Motor Sales, U.S.A., Inc. (2022)
California Court of Appeal affirms order cutting attorney fees request by 85 percent in lemon law action
Covert v. FCA USA, LLC (2022)
California Court of Appeal reverses $200,000 attorney fees and costs award in lemon law action
Fishback v. FCA (2021)
Court of Appeal holds that trial court was not required to "show its work" when reducing or disallowing plaintiff's attorney fees
A&S Metal Recycling, Inc. v. Wilson's Metal Exchange, Inc. (2020)
California Court of Appeal affirms denial of anti-SLAPP motion in defamation case arising out of commercial dispute between business competitors
Green Gate Services, LLC v. Daniel Koetting (2020)
Horvitz & Levy obtains reversal of judgment confirming multimillion dollar arbitration award
Handlers-Bryman v. El Pollo Loco (2020)
Horvitz & Levy secures stipulated reversal of multimillion dollar judgment and injunction restricting El Pollo Loco's franchise operations
Eisen v. Tavangarian (2019)
California Court of Appeal disagrees with prior decision from the same division, reversing judgment requiring partial demolition of remodeled home
Harbor Missionary Church Corp. v. City of San Buenaventura (2016)
Obtained Ninth Circuit reversal of an order denying a preliminary injunction to protect a church's religious freedom right to operate a homeless outreach program within the City of Ventura
Cohen v. Sterling (2015)
Prepared post-trial motions to obtain new trial after $17 million verdict arising out of apartment fire, and obtained affirmance of the new trial order by the California Court of Appeal
Noe v. Superior Court (2015)
California Court of Appeal denied a writ petition challenging summary adjudication in favor of our clients (including Anschutz Entertainment Group, Inc.) on a wage-and-hour claim alleging workers who provided concessions at concerts and sporting events were willfully misclassified as independent contractors in violation of Labor Code section 226.8, on the ground that this recently-enacted law did not create a private right of action
Don Johnson Productions, Inc. v. Rysher Entertainment (2012)
Obtained a $37 million reduction of a $52 million judgment against Rysher Entertainment, a co-producer of the television show Nash Bridges, in California Court of Appeal
Christoff v. Nestlé USA, Inc. (2009)
Obtained reversal of $15.6 million verdict in the California Court of Appeal and affirmance by the California Supreme Court, holding for the first time that the single publication rule applies to right of publicity claims
Burlage v. Superior Court (2009)
Obtained affirmance of order vacating $1.5 million arbitration award in California Court of Appeal based on "refusal of the arbitrators to hear evidence material to the controversy," in first reported decision applying that statutory ground
Harris v. San Diego Gas & Electric (2007)
Prepared post-trial motions in California Court of Appeal to obtain reduction of punitive damages award from $40.5 million to $8.5 million
Gavaldon v. DaimlerChrysler Corp. (2004)
Obtained holding of industry-wide importance from the California Supreme Court that California's "lemon law" applies only during the original warranty and not to separately purchased service contracts for post-warranty repairs
Education
Harvard Law School
J.D., magna cum laude, 1985
Brigham Young University
B.A., summa cum laude, 1982
Clerkships
Hon. Patrick J. Higginbotham, U.S. Court of Appeals, Fifth Circuit (1985-1986)
Bar Admissions
California
Utah
U.S. Supreme Court
U.S. Court of Appeals, Ninth Circuit
Professional Associations
California Academy of Appellate Lawyers, President, 2019-2020; First Vice President, 2018-2019; Second Vice President, 2017-2018; Secretary-Treasurer, 2016-2017; Chair, Rules Commentary & Legislative Suggestions Committee, 2020-present (member), 2014-2016 (chair)
California State Bar Association, Committee on Appellate Courts (Chair, 2003-2004; Vice-Chair, 2002-2003)
Los Angeles County Bar Association, Appellate Courts Section (Executive Committee, 2014-Present; Rules & Law Subcommittee, 2014-Present); Appellate Judicial Evaluations Committee (Vice-Chair, 2007-2011)
J. Reuben Clark Law Society, Clark Society Advisor, 2016-Present; Religious Freedom Committee, 2016-Present; Chair, Los Angeles Chapter, 2009-2010
Awards
"Top 100 list of leading lawyers in California" by the Los Angeles & San Francisco Daily Journal (2009)
"AV Preeminent" rated by Martindale Hubbell
Super Lawyers (2006-2023)
Best Lawyers (2006-2023)
Ranked in the appellate litigation category by Chambers & Partners USA
"Outstanding Lawyer" of the year by the Los Angeles Chapter of the J. Reuben Clark Law Society (2017)
Publications
Improve Your Legal Writting (2023) J. Reuben Clark Law School, BYU Advocate, p. 34
ASCDC Annual Seminar Recap: California Defense Counsel Legislative Update (Vol. 2, 2023) Verdict, p. 15
Book Review - The Defense Lawyer by James Patterson and Benjamin Wallace (Vol. 1, 2022) Verdict, p. 25
Navigating the New Settled Statement Procedures (2020) California Litigation, Vol. 33, No. 2, p. 24
People v. Sanchez, Hearsay, and Expert Testimony (2018) California Litigation, Vol. 31, No. 1, p. 4
Calif. Fixes Timing Problem for Post-Trial Motions (Jan. 8, 2015) Law360
A Music Fan's Guide To New California Appeals Rules (Nov. 4, 2014) Law360
Recently Signed Bill Solves Inconsistencies in Post-Trial Motion Debriefing Deadlines (Summer 2014) ABTL Report, Vol. XXXIV, No. 4, p. 5
The Rules of Court, They Are A-Changin' (Dec. 4, 2013) Daily J., p. 6
The 'Bring Your Own Transcript' Approach to Civil Appeals (Nov. 20, 2013) Daily J., p. 5
To Boldly Go Where No Court Reporter Has Gone Before: A New Prime Directive Governing the Reporting of Electronic Evidence at Trial (Vol. 2, 2011) Verdict, p. 23
Preparing for Oral Argument (March 2011) LACBA E-Publication, Vol. III, No. 3
Interest for Thee but Not for Me? (Aug. 25, 2010) Daily J., p. 7
Another Exception for Judicial Review of Arbitration Awards (June 15, 2010) Daily J., p. 7
Arbitration After Burlage: A Second Take (June 2010) Citations, p. 8
New Year Brings New Rules for Appellate Lawyers (Oct. 28, 2009) Daily J., p. 7
The Itchy & Scratchy Show (Summer 2004) The Off. Record p. 3
Reelin' in the Years (Spring 2004) The Off. Record p. 9
Computer-Readable Transcripts (Winter 2004) The Off. Record p. 6
Counting the Cost (Fall 2003) The Off. Record p. 7
Reporters' Transcripts on Appeal: Transcript Formatting (Summer 2003) The Off. Record p. 5
Those R.T.'s (Spring 2003) The Off. Record p. 4
The Sinking of Seaman's (4th Quarter 1995) Verdict
The General Verdict Rule: Appellate Trap or Opportunity? (1994) 16 CEB Civ. L.R. 93