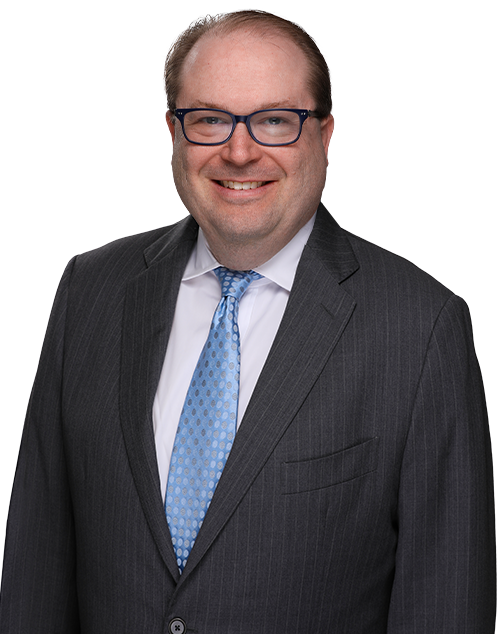 Jeremy B. Rosen
Partner - Los Angeles Office
How Jeremy Helps Clients
Jeremy Rosen is nationally renowned for his proficiency in numerous issues arising under the First Amendment and California's anti-SLAPP law. Using that knowledge, Jeremy has helped a wide variety of clients – including churches, private businesses, and individuals – defeat lawsuits that seek to impose liability on clients for exercising their rights of petition, free speech, and free exercise of religion. He has also handled hundreds of appeals in numerous appellate courts, including the Ninth Circuit Court of Appeals, the California Supreme Court, and California's intermediate appellate courts. In addition to First Amendment and anti-SLAPP cases, his cases have involved numerous important issues regarding anti-trust, class actions, wage and hour law, employment law, breach of contract, intellectual property, California's Unfair Competition Law, CEQA, the enforceability of arbitration clauses, hospital peer review, the scope of public employee whistleblower protection, and the application of the primary assumption of risk doctrine.
---
Jeremy is a partner at the firm, which he joined in 2001. He is a California State Bar Certified Appellate Specialist and a member of the California Academy of Appellate Lawyers.
Jeremy directed the Pepperdine University School of Law Ninth Circuit Appellate Advocacy Clinic for 6 years. The Clinic represents individuals in the Ninth Circuit who are identified by the court as needing pro bono counsel. Jeremy also previously served a three-year term where he was appointed by the Ninth Circuit to serve as one of 18 appellate lawyer representatives to the court.
Jeremy is a member of the National Chamber Litigation Center's California Litigation Advisory Committee. Before joining the firm, Jeremy was a Litigation Associate with Munger, Tolles & Olson.
Representative Matters
Han v. Hallberg (2020)
Supreme Court grants motion to dismiss review, reinstating a favorable Court of Appeal's opinion, preventing a forced partnership buyout, and establishing that living trusts may serve as partners under California law

Riley v. Kernan (2020)
Ninth Circuit reinstates prisoner's civil rights lawsuit on religious liberty grounds

Shia v. Shia (2020)
California Court of Appeal reverses spousal support award because trial court failed to consider domestic violence evidence

Quidel Corp. v. Superior Court (2019)
California Court of Appeal reverses trial court that had applied a rule of per se invalidity to exclusivity provisions in contracts between businesses

Hawkins v. St. John Missionary Baptist Church of Bakersfield (2017)
California Court of Appeal reversed a judgment ordering the removal of a church's pastor based on the trial court's disenfranchisement of active church members in a church election
Byrd v. Maricopa Board of Supervisors (2017)
Pro bono win in the Ninth Circuit that reversed judgment dismissing prisoner civil rights lawsuit
Angel v. Winograd (2016)
California Court of Appeal reversed trial court judgment denying anti-SLAPP motion and ordered motion to be granted to dismiss lawsuit challenging activist's petition campaign to city council
Angelotti Chiropractic, Inc. v. Baker (2015)
Ninth Circuit reversed district court judgment finding California worker's compensation law unconstitutional
Corber v. Xanodyne Pharmaceuticals, Inc. (2014)
Ninth Circuit en banc decision that reversed panel and held that Class Action Fairness Act permitted removal of coordinated actions
Malin v. Singer (2013)
California Court of Appeal reversed trial court denial of anti-SLAPP motion and found attorney demand letter absolutely privileged
Christoff v. Nestle (2009)
California Supreme Court reversed substantial jury verdict for misappropriation of likeness based upon application of the single publication rule
Episcopal Church Cases (2009)
California Supreme Court reversed trial court and held that property in dispute was held in trust for Episcopal Church; Affirmed by California Supreme Court
Holdgrafer v. Unocal Corp. (2008)
California Court of Appeal reversed substantial punitive damage award
Kibler v. Northern Inyo County Local Hosp. Dist. (2006)
California Supreme Court held anti-SLAPP statute applies to peer review
Varian v. Delfino (2005)
California Supreme Court held when appeal from grant or denial of anti-SLAPP motion occurs, there is automatic stay of further trial court proceedings pending the appeal
Education
Duke University School of Law
J.D. and L.L.M. in International and Comparative Law, Order of the Coif, magna cum laude, 1997
Cornell University
B.A., Phi Beta Kappa, magna cum laude, 1993
Clerkships
Hon. Ferdinand F. Fernandez, U.S. Court of Appeals, Ninth Circuit (1999-2000)
Hon. Wm. Matthew Byrne, Jr., U.S. District Court, Central District of California (1997-1998)
Bar Admissions
California
U.S. Supreme Court
U.S. Court of Appeals, Fourth Circuit
U.S. Court of Appeals, Fifth Circuit
U.S. Court of Appeals, Eighth Circuit
U.S. Court of Appeals, Ninth Circuit
U.S. Court of Appeals, Tenth Circuit
U.S. Court of Appeals, Federal Circuit
U.S. District Court, Central District of California
U.S. District Court, Southern District of California
Professional Associations
Awards
CLAY award (California Lawyer Attorney of the Year) in the field of appellate practice (2016)
The Los Angeles & San Francisco Daily Journal recognized Jeremy as one of the Top 100 Lawyers in California (2013-2014)
National Law Journal profiled Jeremy in its Pro Bono Hot List (2014)
Public Counsel Pro Bono Attorney of the Year (2013)
Los Angeles & San Francisco Daily Journal "20 to Watch Under 40" list of California attorneys (2007)
Super Lawyers (2012-2020)
Super Lawyers "Rising Star" (2006-2011)
Best Lawyers (2015-2020)
Publications
Supreme Court Eviscerates Limits on the Ministerial Exception (Apr. 5, 2021) Daily J.
Escaping the COVID-19 Backlog: Arbitration (Fall 2020) ABTL Report
State Court Docket Watch: Frlekin v. Apple Inc., (Oct. 9, 2020) The Federalist Society
Anti-SLAPP and Employment Claims (July 15, 2020) Daily J.
A GC'S Auditor? How To Use Appellate Counsel To Add Value (Mar. 2018) Association of Corporate Counsel, Docket Vol. 36, Issue 2
How Calif.'s Anti-SLAPP Law Affects Amended Complaints (Nov. 8, 2017) Law360
Does California's Anti-SLAPP Law Apply To Discrimination Claims? (June 9, 2017) Law360
My Reflections on Justice Paul Turner (May 26, 2017) Daily J.
SLAPP Update (Apr. 7, 2017) California Lawyer
DC Circuit Rules FedEx Drivers Are Independent Contractors, Again Rejecting NRLB View (Mar. 30, 2017) Washington Legal Foundation, The Legal Pulse
Does Anti-SLAPP Law Apply To Legal Malpractice Claims? (Feb. 13, 2017) Law360
Helping Americans to Speak Freely (Dec. 15, 2016) The Federalist Society Review, Vol. 18, p. 46
What Is 'Public Interest' Under California Anti-SLAPP Law? (Dec. 1, 2016) Law360
When Demand Letters Constitute Extortion In California (Sept. 23, 2016) Law360
Revitalizing Calif.'s Often Overlooked Legislative Privilege (Aug. 9, 2016) Law360
Speak Free Act Prevents SLAPP in Face to Free Speech (July 15, 2016) The Hill
Speaking Freely (Summer 2016) ABTL Report
California's Anti-SLAPP Law is Not Systematically Abused (June 30, 2016) Law360
Written testimony in support of H.R. 2304, the ''Speak Free Act'' (June 22, 2016) House of Representatives, Committee on the Judiciary
Weekly Appellate Report (Apr. 29, 2016) Daily J.
The Fine Line Between Protected Demand Letters and Extortion (2015) California Litigation, Vol. 28, No. 1, p. 11
Arbitration: Be Careful What You Wish For (Mar. 24, 2014) Corporate Counsel [online exclusive]
SLAAP Update (Dec. 2012) California Lawyer, pp. 36-38
Petitions for Review in the California Supreme Court (June 2012) Orange County Lawyer, Vol. 54, No. 6, pp. 32-36
Why We Need a Federal Anti-SLAPP Law (June 8, 2012) Daily J., p. 3
The Wide-Ranging Applications of Calif. Anti-SLAPP Law (Feb. 14, 2012) Law 360
Uncertainty looms over anti-SLAPP issues in 2011 (Dec. 20, 2011) Daily J., p. 4
Petitions for Review in the California Supreme Court (June, 2011) LACBA E-Publication, Vol. II, No. 21
The 2010 Election and the New Chief Justice: How Will the State Supreme Court Change? (Oct. 5, 2010) Daily J., p. 5
California 2010: The Courts and the Economy (Oct. 2010) Federalist Society for Law & Public Policy Studies
California 17200: Its Nature, Function, and Limits (Summer 2010) State Court Docket Watch
Another Exception for Judicial Review of Arbitration Awards (June 15, 2010) Daily J., p. 7
California: Unfair Competition Law (Summer 2009) State Court Docket Watch, at p. 2
2 Cal. Civil Writ Practice (Cont.Ed.Bar 4th ed. 2008) Petition for Writ of Supercedeas, ch. 26, pp. 681-702
Where No Court Has Gone Before: The California Supreme Court Imposes Modest Limits On The Use Of Parol Evidence (1st Qtr. 2007) Verdict, pp. 42-44
Anti-SLAPP Statutes and Peer Review (Nov. 2006) Medical Malpractice Law & Strategy, Vo. 24, No. 2A, p. 7
Unmasking "crack_smoking_jesus": Do Internet Service Providers Have a Tarasoff Duty to Divulge the Identity of a Subscriber who is Making Death Threats? (2003) 25 Hastings Communications and Entertainment Law Journal (Comm/Ent) 683
Excessive Verdicts Affect Both "Real People" and "the Powerful" (Sept. 2001) L.A. Daily J., Vol. 114, No. 168
The Independent Counsel Act: An Unconstitutional Delegation of Power to Judges (2001) Federalism & Separation of Powers News, Vol. 3, No. 1
China, Emerging Economics, and the World Trade Order (1997) 46 Duke L.J. 1519