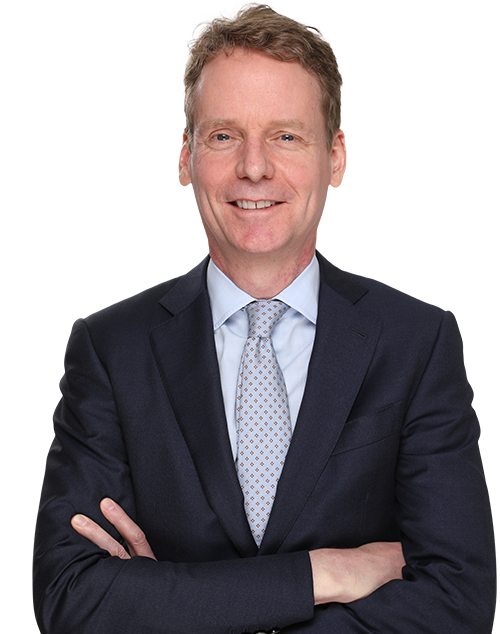 Robert H. Wright
Partner - Los Angeles Office
How Robert Helps Clients
Clients leverage Robert Wright's expertise in handling appeals and writs in matters of tort liability and damages, and products liability. He also has significant experience in employment issues and assumption of risk. Robert has presented over 30 arguments before the state and federal appellate courts, including arguments before the U.S. Court of Appeals for the Ninth Circuit and each of the districts of the California Court of Appeal.
---
Robert is a partner at the firm, where he has been practicing since 1999. He is one of the firm's managing partners. On behalf of the Department of Legal Specialization, State Bar of California, he has prepared questions for the legal specialist exam in appellate law. He is also a California State Bar Certified Appellate Specialist.
Robert has been counsel of record in closely-watched cases raising issues of statewide importance, including recent cases addressing the lawfulness of exclusivity provisions in contracts between businesses (Quidel Corp. v. Superior Court (2019) 39 Cal.App.5th 530) and the measure of damages for future medical care (Cuevas v. Contra Costa County (2017) 11 Cal.App.5th 163).
Before joining the firm, Robert was a litigation associate with Gibson, Dunn & Crutcher LLP, where he handled civil litigation, antitrust counseling, and appeals. Robert is a frequent contributor to state and national legal publications and a featured contributor to the Washington Legal Foundation on the issue of Mass Torts-Asbestos.
Representative Matters
Scholes v. Lambirth Trucking Co. (2020)
California Supreme Court limits damages for trees harmed by negligently spread fires

Quidel Corp. v. Superior Court (2019)
California Court of Appeal reversed trial court that had applied a rule of per se invalidity to exclusivity provisions in contracts between businesses
Hake v. Allied Fluid Products Corp. (2018)
California Court of Appeal held that Kansas law governed the issue of causation and that plaintiff's "every exposure" theory did not satisfy the requirements of Kansas causation law
Cuevas v. Contra Costa County (2017)
California Court of Appeal reversed an award of $9.6 million for future medical expenses to permit evidence of Medicaid and Affordable Care Act benefits
Corenbaum v. Lampkin (2013)
California Court of Appeal reversed damages awards of over $3 million and held that evidence of "billed" but unpaid medical expenses is not admissible to prove future medical damages or noneconomic damages
Bruns v. E-Commerce Exchange, Inc. (2011)
California Supreme Court overturned the judgment of the Court of Appeal in a case construing California's statute mandating dismissal of actions not brought to trial within five years, holding that only complete stays—those that bar all activity in a case—are "stays of prosecution" within the meaning of the statute
Collins v. Plant Insulation Co. (2010)
California Court of Appeal reversed a $2 million judgment on the ground the trial court did not allow the jury to allocate fault to a third party with sovereign immunity
Kelly v. CB & I Constructors, Inc. (2009)
California Court of Appeal reversed a damages award for discomfort, annoyance, and inconvenience on the ground such damages cannot be recovered for trespass when the plaintiff does not occupy the property at the time of the trespass
Perlin v. Fountain View Management, Inc. (2008)
California Court of Appeal held that a statute authorizing fees when the plaintiff establishes by clear and convincing evidence a defendant's liability for neglect also requires proof of causation under the same clear and convincing evidence standard
State Farm v. Superior Court (2004)
California Court of Appeal reversed order compelling arbitration of uninsured motorist claim; held that, when insurer has paid its full policy benefits, the insurer is not required to arbitrate the amount of damages caused by the uninsured driver
Kazi v. State Farm Fire & Casualty Co. (2001)
California Supreme Court established that a claim of interference with an easement right does not give rise to an insurer's duty to defend under a policy covering damage to tangible property
Education
Indiana University School of Law, Bloomington
J.D., summa cum laude, 1991
University of Virginia
B.A., 1987
Bar Admissions
California
U.S. Supreme Court
U.S. Court of Appeals, Ninth Circuit
Professional Associations
Awards
"AV Preeminent" rated by Martindale Hubbell
ALM's "Top Rated Lawyers" section for Appellate Attorneys
Super Lawyers (2006-2020)
Publications
Can Plaintiffs' Lawyers Deploy the Asbestos-Liability Playbook for "Take-Home" COVID-19 Suits? (Oct. 20, 2020) Washington Legal Foundation, The Legal Pulse
Damages in Wildfire Litigation, Business Law News 2020, Issue 2
Tennessee High Court Set to Rule on "Bare Metal" Defense in Asbestos Litigation (May 5, 2020) Washington Legal Foundation, The Legal Pulse
Latiolais v. Huntington Ingalls, Inc.: Easing the Standard for Federal Officer Removal (Mar. 12, 2020) Washington Legal Foundation, The Legal Pulse
A Tale of Two Verdicts: Juries' Disparate Decisions on Talc Undermine Case for Punitive Damages (Feb. 24, 2020) Washington Legal Foundation, The Legal Pulse
Supreme Court's DeVries Decision Doesn't Spell the End of "Bare Metal" Defense in Asbestos Cases (Apr. 5, 2019) Washington Legal Foundation, The Legal Pulse
NJ Supreme Court to Decide Whether Third Party Manufacturers Have Duty to Warn of Asbestos Exposure (Feb. 15, 2019) Westlaw Journal Asbestos, Vol. 41, No. 9
Divided Virginia Supreme Court Decision Epitomizes National Split over "Take Home" Asbestos Liability (Oct. 26, 2018) Washington Legal Foundation, The Legal Pulse
California Supreme Court Says Use of Industry Custom and Practice Evidence Is a "Two-Way Street" in Products Liability Actions (Sept. 11, 2018) Washington Legal Foundation, The Legal Pulse
Asbestos-Liability-Suit Judges Should Beware Plaintiffs' Expert's "Notice" Testimony (Apr. 11, 2018) Washington Legal Foundation, The Legal Pulse
Ohio High Court Confirms Cumulative-Asbestos-Exposure Theory Cannot Establish Legal Causation (Mar. 30, 2018) Westlaw Journal Asbestos, Vol. 40, No. 12, p. 6
The "No-Safe-Level" Theory Is Just as Bad in the Real World as in Litigation (Jan. 2, 2018) Washington Legal Foundation, The Legal Pulse
Trial Judge Tosses Jury Verdict in Talcum Powder Mass-Tort Suit for Lack of Causation (Nov. 1, 2017) Washington Legal Foundation, The Legal Pulse
Court Ruling in Pharma Case Calls into Question Consumer Expectations Test's Use in Asbestos Suits (Sept. 29, 2017) Westlaw Journal Asbestos, Vol. 39, No. 25
Fourth Circuit Upholds Application of Government-Contractor Defense in Asbestos Suit (Aug. 4, 2017) Westlaw Journal Asbestos, Vol. 39, No. 21
Once Again, the California Supreme Court Refuses to Rule on the 'Every Exposure' Theory of Causation (June 23, 2017) Westlaw Journal Asbestos, Vol. 39, No. 18, pp. 3-4
California's Medical-Injury Compensation Law Provides a Model for Federal Tort Reform (May 5, 2017) Washington Legal Foundation, Legal Backgrounder
Reptile Dysfunction: An Appellate Court Disapproves of the Reptile Theory (Mar. 14, 2017) Trials and Tribulations [DRI], Vol. 23, No. 1 , pp. 3-5
Can Employees Be On Call On Break? (June 1, 2015) Daily J., p. 5
Federal Health Insurance Mandates and the Impending Upheaval of the Collateral Source Rule (Jan. 29, 2015) Washington Legal Foundation, Contemporary Legal Note, Number 76
The Effect of Howell on Personal Injury Medical Cost Recovery (Oct. 2014) Los Angeles Lawyer, pp. 16-19
Howell Two Years Later: Strategies for Responding to Attempts to Circumvent a Landmark Decision (2014) Verdict, Vol. 1, pp. 19-22
AB 748: Taming Interest Rates for Public Entities, New California Laws for 2014 (Jan. 21, 2014) Supplement to Daily J., p. 10
Assumption of the Risk in Boat Racing: A Study in Maritime Jurisprudence (2013) 11 Loyola Mar. L.J. 271
Measuring Damages to Trees and Pets (Dec. 7, 2012) The Recorder, p. 12
The Conflict over Medicare's 'Full Reimbursement' Rule (June & July 2012) Medical Malpractice Law & Strategy, Vol. 29, Nos. 9 & 10 [two-part article]
Howell v. Hamilton Meats & Provisions: A Landmark Damages Case (Winter 2012) Association of Business Trial Lawyers, Vol. XXXIII, No. 2, p. 1
Sanchez v. Strickland and the Measure of Damages in California for Past Medical Expenses (Winter 2012) Legal Insights, p. 15
Limiting Windfall Damages (Feb. 2012) Medical Malpractice Law & Strategy, Vol. 29, No. 5, p. 1
The Five-Year Mandatory Dismissal Statute May Be Back In Vogue (Dec. 27, 2011) Daily J., p. 3
California Decisions - On the Books and Off: Why the Bar Should Remain Attentive to the Benefits of Seeking Both Publication and Depublication (3rd & 4th Quarter 2010) Verdict, p. 37
Punitive Damages Immunity of Federal Instrumentalities (American Bar Association Winter 2009) The Brief, Vol. 38, No. 2, p. 24
Determining Whether to File an Appellate Court Writ Petition (Cont.Ed.Bar 4th ed. 2008) Cal. Civil Writ Practice, ch. 17
California Court: Peer Review Recommendations Not Final (Nov. 2004) Medical Malpractice Law & Strategy Vol. 22, No. 1, p. 3
International Antitrust Handbook (American Bar Association 1997-1998)