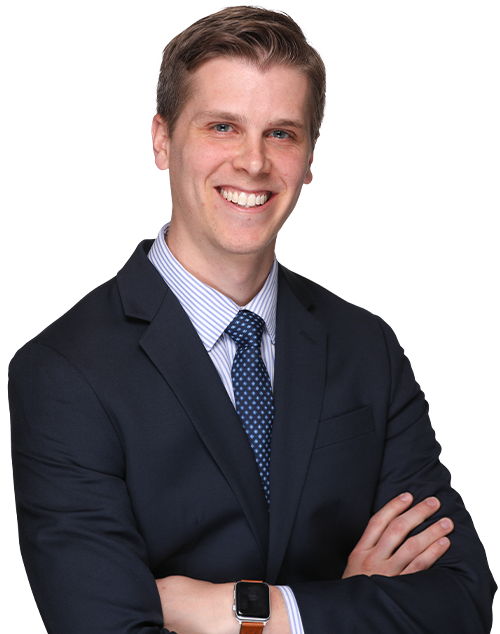 Joshua C. McDaniel
Associate - Los Angeles Office
How Josh Helps Clients
Having argued before the California Supreme Court so early in his career, Josh McDaniel plays a key role in helping clients develop trial strategy and appellate solutions. His cases have involved important issues in the areas of antitrust and unfair competition, constitutional law, franchise law, high-stakes contract and insurance disputes, and expert discovery. He also specializes in representing individuals and religious organizations in cases raising First Amendment and religious liberty issues. Last fall, he supervised students as a staff attorney for the inaugural semester of Harvard Law School's Religious Freedom Clinic.
---
Josh joined the firm as an associate in 2015 and previously practiced as a litigation associate at Munger, Tolles & Olson.
Representative Matters
Hoffmann v. Young (2021)
Persuaded the California Supreme Court to grant review to decide an important issue of first impression regarding the scope of California's recreational use immunity statute
Handlers-Bryman v. El Pollo Loco (2020)
Represented El Pollo Loco in a high-stakes case challenging the company's ability to open new restaurants in the same city as a franchisee. Josh's appellate arguments helped secure a favorable settlement and stipulated reversal that dismissed the plaintiffs' damages claims with prejudice and eliminated an 11-point injunction that would have barred the company from enforcing industry-standard terms in its franchise agreements with all its franchisees.
Insurance Co. of the State of Pennsylvania v. Cnty. of San Bernardino (2019)
Secured a Ninth Circuit decision affirming summary judgment for his client in a dispute over the insured county's ability to stack policy limits to gain potentially hundreds of millions of dollars in additional coverage for landfill cleanup costs
Sandoval v. Qualcomm Inc. (2019)
Persuaded the California Supreme Court to grant review of a Court of Appeal decision holding Qualcomm liable for the unforeseeable negligent act of an independent contractor that caused injury to one of the contractor's own employees. The case is now pending in the California Supreme Court
Su v. Stephen Wise Temple (2018)
Represented Jewish synagogue in an appeal filed by the California Labor Commissioner challenging whether teachers at the synagogue's Jewish preschool are "ministerial employees" for purposes of the First Amendment's ministerial exception to employment laws. The appeal resulted in a published California Court of Appeal decision and a favorable settlement after the Temple filed a cert petition in the U.S. Supreme Court
Perry v. Bakewell Hawthorne (2017)
Argued before the California Supreme Court on behalf of amici in a case involving the interpretation of California's summary judgment and expert witness disclosure statutes. The Supreme Court unanimously adopted the positions urged by amici
Royal Alliance Associates v. Mooney (2017)
Secured a Ninth Circuit reversal of a judgment that had compelled his client, a broker dealer firm, to submit to a FINRA arbitration in a multimillion dollar securities dispute
Prometheus Real Estate Group v. Marazzo (2017)
Represented a prominent real estate developer in an appeal in the California Court of Appeal arising out of a failed joint venture to develop hundreds of luxury apartments in Mountain View, California
Hawkins v. St. John Missionary Baptist Church (2017)
Secured a California Court of Appeal reversal of a judgment ordering the removal of a church's pastor based on the trial court's disenfranchisement of active church members in a church election
Education
University of California, Los Angeles, School of Law
J.D., Senior Editor on the UCLA Law Review and a Michael T. Masin Scholar. Graduated first in class, Order of the Coif, 2012
Brigham Young University
B.A., magna cum laude, 2008
Clerkships
Hon. Jay S. Bybee, U.S. Court of Appeals, Ninth Circuit (2014-2015)
Hon. Cormac J. Carney, U.S. District Court, Central District of California (2013-2014)
Bar Admissions
California
U.S. Supreme Court
U.S. Court of Appeals, Ninth Circuit
U.S. District Court, Central District of California
Professional Associations
Publications
A Viable Challenge to California's Ban on Religious Services? (Oct. 6, 2020) Daily Journal
Police Power in Paradise: Hawaii Quarantine Rule Likely Valid (July 10, 2020) Daily Journal
Coronavirus and the Constitution: What powers do federal and state authorities have to fight a pandemic? (Apr. 21, 2020) Daily Journal
Is California's travel ban constitutional? (Feb. 21, 2020) Daily Journal
The 9th Circuit's Nonfunctional Approach to the Ministerial Exception (Jan. 14, 2020) Daily Journal
Alien Tort Statute Should Preclude Corporate Liability (Oct. 3, 2017) Daily Journal, p. 9
A Rather Suitable Remedy (Mar. 17, 2017) Daily Journal, p. 1
Bill Will Lighten Load for Trial Courts (Aug. 18, 2015) Daily Journal, p. 6