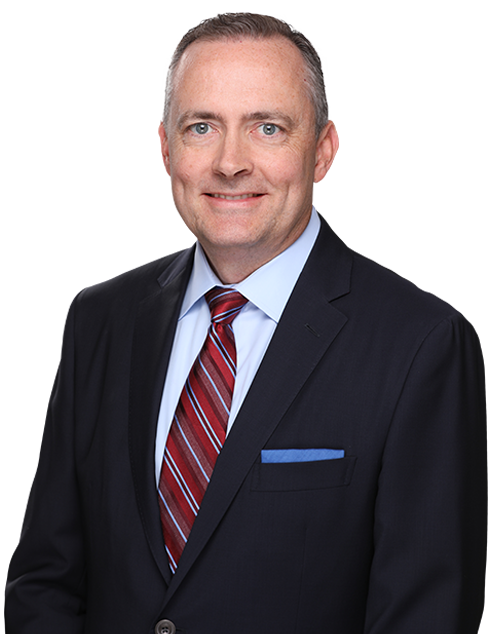 Curt Cutting
Partner - Los Angeles Office
How Curt Helps Clients
Curt Cutting helps businesses defend against high-stakes litigation, especially in cases where plaintiffs are seeking punitive damages. His work in punitive damages cases, both at the trial court level and on appeal, has resulted in the reduction or outright reversal of a number of multi-million dollar punitive damages awards.
---
At the trial court level, Curt assists clients with strategic consulting, preparation of critical motions, and preserving dispositive issues for appeal. On appeal, Curt serves as lead counsel in cases involving a wide range of subject areas, including products liability, mass torts, business disputes, and insurance law. He has presented dozens of oral arguments, including appearances before the California Supreme Court and the Supreme Court of Guam.
Curt, along with other attorneys at Horvitz & Levy, serves as West Coast appellate counsel for a Fortune 100 company in asbestos litigation, assisting at the trial court level and representing the company as lead counsel on appeal.
He is the primary contributor to the firm's blog on punitive damages. He has provided commentary on punitive damages litigation and appellate practice for various media outlets, including Bloomberg Law, The National Law Journal, The Seattle Times, The Associated Press, The San Diego Union Tribune, The Daily Journal, The Recorder, BNA's Class Action Litigation Reporter, and Business Insurance.
Curt is an adjunct professor at the Pepperdine Caruso School of Law, where he teaches the Ninth Circuit Appellate Advocacy Clinic along with fellow H&L partner Mark A. Kressel. The Clinic handles cases in the U.S. Court of Appeals for the Ninth Circuit, representing individuals in matters that the court identifies as warranting appointment of pro bono counsel.
Representative Matters
Washington 111, LTD v. Kelsey (2023)
Trial court granted motion for new trial in breach of lease case, finding insufficient evidence to support the verdict that invalidated the lease based on mutual mistake of fact

Blasco v. FCA USA, LLC (2022)
California Court of Appeal affirmed nonsuit on punitive damages in lemon law case

Swanson v. The Marley-Wylain Company (2021)
California Court of Appeal reversed $5.5 million judgment in mesothelioma case due to instructional error
Sernas v. Cantrell (2021)
Ninth Circuit reversed district court's dismissal of prisoner's civil rights claim
Riley v. Kernan (2020)
Ninth Circuit reinstated prisoner's civil rights lawsuit on religious liberty grounds

Alaniz v. Sun Pacific Shippers, L.P. (2020)
California Court of Appeal reversed judgment against landowner due to error in jury instructions

Barton v. The Argen Corporation (2019)
California Court of Appeal affirmed judgment of dismissal in products liability action against supplier of dental alloys

Stennett v. Miller (2019)
California Court of Appeal upheld wrongful death statute against equal protection challenge
Menera v. Mega R.V. Corp. (2018)
California Court of Appeal affirms defense verdict in products liability case, rejecting claims of attorney and juror misconduct
Rudolph v. Rudolph and Sletten, Inc. (2018)
Court of Appeal rejected plaintiffs' attempt to circumvent workers' compensation exclusive-remedy rule in take-home asbestos case
Saller v. Crown Cork & Seal (2017)
California Court of Appeal reversed $3.6 million in punitive damages in products liability case
In re Marriage of McCourt (2015)
California Court of Appeal ruled in favor of former Dodgers owner Frank McCourt in marital dissolution case
Mobasser v. Yermian (2014)
California Court of Appeal vacated jury's award of emotional distress damages and punitive damages in family business dispute
O'Neil v. Crane Co. (2012)
California Supreme Court held that equipment manufacturers cannot be liable for injuries caused by asbestos-containing parts made by other manufacturers
American States Ins. Co. v. Ramirez (2012)
California Court of Appeal reversed $6 million judgment in insurance coverage dispute
Los Angeles County Metropolitan Transportation Authority v. Alameda Product Market LLC (2011)
California Supreme Court overturned Court of Appeal's waiver finding in eminent domain action
Behnke v. State Farm General Ins. Co. (2011)
California Court of Appeal affirmed dismissal of policyholder's claims for breach of contract, misrepresentation, and bad faith
Griffin Dewatering Corp. v. Northern Ins. Co. of New York (2009)
California Court of Appeal reversed an $11 million judgment, including $10 million in punitive damages
National Union Fire Ins. Co. v. Cambridge Integrated Services (2009)
California Court of Appeal reinstated excess insurer's lawsuit against a third-party claims administrator
Itella Intern v. Pacific American Fish Co. (2009)
California Court of Appeal reversed $1.3 million judgment, including $1.15 in punitive damages
Smith v. Exxon Mobil (2007)
California Court of Appeal reversed wrongful death judgment in lawsuit based on asbestos exposure at oil refinery
Border Business Park v. City of San Diego (2006)
California Court of Appeal reversed $91.7 million inverse condemnation award against the City of San Diego and ordered a new trial on a $30.8 million breach of contract award
Stonegate Homeowners Assn. v. Staben (2006)
California Court of Appeal held that subcontractor owes a duty to general contractor to perform work in accordance with industry standards
Andrews v. USF (2006)
California Court of Appeal held that general liability insurer had no duty to defend architect and general contractor in lawsuit for professional malpractice
Park v. Mobil Oil Guam, Inc. (2004)
Guam Supreme Court affirmed reduction of punitive damages from $2.8 million to $150,000
Johnson v. Hooters of America, Inc. (2004)
California Court of Appeal held that juror misconduct was not prejudicial to plaintiff
Rawlings v. Ascha (2002)
California Court of Appeal held that plaintiff was not entitled to jury instruction on res ipsa loquitur in case where patient died following routine surgery
Dekofsky v. Brea Range, Inc. (2001)
California Court of Appeal held that seller of shooting range could not be liable for failing to inform purchaser of prior suicides
Lockheed Litigation Cases (2000)
California Court of Appeal reversed $380 million punitive damages award
Education
Seattle University School of Law
J.D., magna cum laude, 1995
Ohio University
B.S. (Physics) & A.B. (History), Honors Tutorial College, cum laude, 1992
Clerkships
Hon. Ruggero J. Aldisert, U.S. Court of Appeals, Third Circuit (1996-1997)
Hon. Eugene A. Wright, U.S. Court of Appeals, Ninth Circuit (1995) (extern)
Bar Admissions
California
Washington
U.S. Supreme Court
U.S. Court of Appeals, Third Circuit
U.S. Court of Appeals, Ninth Circuit
U.S. District Court, Central District of California
U.S. District Court, Western District of Washington
Professional Associations
Awards
Publications
California's Latest Litigation Invitation: A Duty to Protect Against "Take-Home" Exposure (May 19, 2017) Washington Legal Foundation, Legal Opinion Letter
Ruling Shows Challenges to Post-Trial Attacks on Punitive Damages (Aug. 4, 2016), Daily J., p. 8
Will the Billable Hour Go the Way of the Law Library? (Perspective) (July 28, 2016) Bloomberg Law
An Appellate Perspective on Litigation Management (Winter 2013) In-House Defense Quarterly (DRI), p. 18
Appellate Practice Compendium (ABA Book Publishing 2012) Ch. 20, California
Supreme Court of California: Manufacturers are not Liable for Injuries Caused by Someone Else's Product (March 9, 2012) Wash. Legal Foundation, Legal Opinion Letter, Vol. 21, No. 6
Punitive Damages: Inching Towards Predictability (June 18, 2010) Claims Magazine [online exclusive]
Keeping Up Appearances (Nov. 23, 2009) Daily J., p. 5
An Emerging Trend?: Federal Appeals Court Limits Punitive Damages To 1:1 Ratio (2009) Wash. Legal Foundation, Legal Opinion Letter, Vol. 19, No. 3
Premature New Trial Motions (Mar. 2006) California Lawyer, p. 24
Baby Steps: California Supreme Court Cautiously Ventures Into Federal Punitive Damages Law (2d. Quarter 2005) Verdict
Problematic New Civil Jury Instructions (May 2004) California Lawyer, 20
Winning on Appeal: Better Briefs and Oral Arguments by Ruggero J. Aldisert (2nd ed. 2003) Chapter 23, How Top-Flight Appellate Lawyers Prepare for Oral Argument
The Courts and the News Media (California Judges Association 7th ed. 2001) Chapter 6, Legal Research
Everything You Ever Wanted to Know About the Federal Judiciary (Spring 2000) A.B.A. Jud. Division Rec. 18
Discovery Reform on the Horizon? (Winter 1999) A.B.A. Jud. Division Rec. 21
Bad Enough to Punish: The Application of the Reprehensibility Guidepost in Punitive Damages Cases After BMW v. Gore (Fall 1998) 49 Fed'n of Ins. & Corp. Couns. Q.
Turning Point for 10b-5: Will Congressional Reforms Protect Small Corporations? (1995) 56 Ohio St. L.J. 555